Galapagos with G Adventures on Yolita II!  January 15-29, 2023

Lynne and I booked this trip in November 2021 and the day finally arrived!  We flew to Quito, spent a day exploring and met our fellow travellers (15 total) in the hotel for a briefing.  At 4:30 in the morning we boarded our Avianca flight to Baltras via Guyaquil (a required stop for fuel).  After gathering our luggage and meeting our CEO Milton, we took a bus to the Baltras harbour where we met our home for the next two weeks, the Yolita II.  
Below is our first sight of Yolita II, at the fuel dock:
I was so excited to be there and couldn't wait to photograph the wildlife that were hanging around the docks.  

Below:  
1.  A marine iguana licking the concrete (?)

2.  A sea lion sleeping below the dock
3.  A brown pelican with a lava gull perched on its head (!)
4.  Sally Lightfoot crabs on the rocks nearby
5.  Sea lions arguing about whose bed is whose....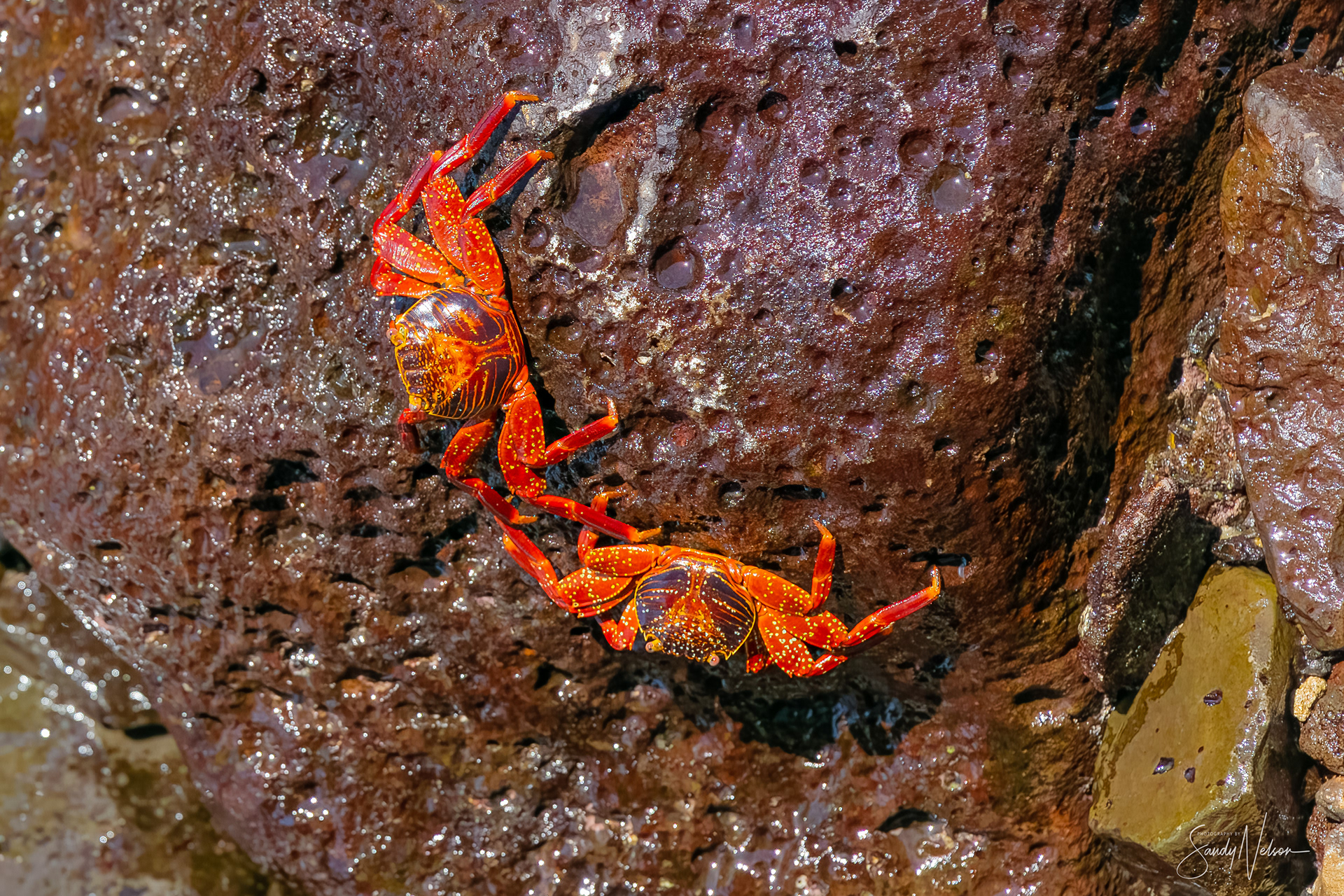 The gang on an afternoon walk on Bachas Beach
Bachas Beach is named for the barges left behind by the US after WWII that are disintegrating on the beach.   
Yolita II was anchored off the shore and the Zodiac dingys (pangas) brought us to the beach.  

The brightly coloured Sally Lightfoot crabs were everywhere!
A Galapagos great blue heron

(endemic sub-species 

Ardea herodias cognata) stood sentry on the rocks.  
"Endemic" means that the particular species or sub-species is found only at a specific location.  The Galapagos Islands have many endemic species because they are so isolated.
Lots of Marine Iguanas were wandering on the beach and sleeping on the rocks.  
Marine Iguanas, endemic to the Galapagos, are thought to have drifted to the Galapagos from South America, and once there, adapted to feed/swim in the water because there were no fruits or other vegetation to eat on the stark volcanic islands.  They eat underwater algae and seaweed, and swim through the water like crocodiles.
A Galapagos brown pelican (endemic sub-species Pelecanus occidentalis urinator) 
​​​​​​​
There are only about 500 pink flamingos in the Galapagos. These pink flamingos are pale because of their diet.  In the background on the rocks is a whimbrel, a migratory bird that spends winters in the Galapagos.  
January 15 was our first night aboard Yolita II.  The crew was AMAZING, the staterooms were very comfortable with ensuite bathrooms, the food was fabulous and all was good.  We had a BEAUTIFUL sunset! 
There are two species of frigate birds:  magnificent frigate birds and great frigate birds. 
The female magnificents have a blueish eye, and apparently the males have a greenish hue to their wings instead of a purplish hue...but when I look at photos, I see green AND purple on both....so I won't try to guess which ones we are seeing!

In the dark, we could see sharks, sea lions and pelicans swimming around the boat